DDEX_GUNS?
DD = Apelido dado por meus primos, e adotado por poucos amigos mais próximos que tenho.
EX = Não tem um motivo, já tinha tentado aluns ID e como a maioria estava ocupado, isso surgiu na hora.
GUNS = Guns N' Fucking Roses, minha banda favorita.
Um breve resumo da minha vida Gamer com alguns jogos que merecem destaques e algumas opiniões.
Meu primeiro Console
Turbo Game da CCE, um "Nintendo" clonado como era de costume na época. não tenho tantas lembranças pois fiquei pouco tempo com ele, mas mesmo assim foi muito importante para que eu entrasse de vez na vida gamer, mas um jogo que não esqueço desse pouco tempo com o Turbo game é o Brush Roller
Infelizmente quando consegui o meu segundo console minha mãe deu ele pra uma tia minha, eu já não gostava dessa tia, aí então
O Primeiro Amor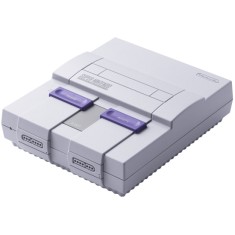 Aaaa Super Nintendo, como joguei isso... Aqui se iniciou meu amor pela BigN, Zelda A Link to the Past, Super Mario World, Donkey Kong Country, Metroid, Biker Mice From Mars, Goof Troop, International Superstar Soccer Deluxe além de muitos outros jogos mas esses tem um lugar especial na minha memória.
Obs: Esse eu ainda tenho, na caixa, com controles dourados, o console está meio amarelado mas funcionando
O Primeiro Portátil, e um vício que consome meu $ até hoje
Game Boy Light, digamos que poder jogar no escuro fez com que eu fosse para escola parecendo um zumbi muitas vezes.
Não tive muitos jogos para Game Boy, mas tive e tenho Pokémon Blue, adeus amigos, adeus bicicleta, adeus futebol (não sou gordo de graça
), Pokémon até hoje é realmente um vício que tenho.
Vem Monstro
Nintendo 64, resumo: 007 Goldeneye, Mario 64, Pokémon Stadium e o MELHOR jogo já criado (na minha opinião) The Legend Of Zelda Ocarina Of Time que junto com Majora's Mask são os jogos que mais joguei na vida.
Entrando no Mundo Playstation
Meu interesse em PS veio com Final Fantasy VIII, gráficos incríveis (só nas cenas) mas mesmo com personagens ainda quadrados o jogo era incrível, eu jogava na casa de um primo mas com o vício aumentando eu precisava de um PS meu, quando finalmente consegui o meu PS e finalmente terminei FF VIII veio a fase de mil jogos, afinal os jogos eram baratos
, e com tantos jogos vieram os destaque, Yu-Gi-Oh Forbidden Memories, Digimon World 3, e o FODA Castlevânia Symphony of The Night.
A BigN ainda dominava
Enquanto todo mundo queria o PS2 eu fui para Nintendo Game Cube, o incrível é que até o vendedor da loja falava para comprar o PS2 mas eu sabia o que queria e não me arrependi, o melhor console da Nintendo, pena que não teve força para competir com as outras empresas. Pela segunda vez comprei Zelda Ocarina Of Time dessa vez com a versão Master Quest que era um presente para um viciado no jogo, Depois veio o Zelda Wind Waker, a primeira vista decepcionou por conta dos gráficos cartunescos mas por fim foi um puta jogo, aí finalmente veio o tão aguardado Zelda mais "real" Twilight Pincess, embora o jogo mais bonito até então não conseguiu me agradar tanto quanto os outros. Sobre os outros jogos, Metroid Prime, Pokemon Colosseum e Gale Of Darkness, Resident Evil 4 (sugado até hoje pela Capcom de tão foda, e que por um tempo foi exclusivo do Game Cube) e o desespero de muita gente Resident Evil 0 que também era exclusivo.
De Volta ao Mundo Playstation
Mesmo adiando por um tempo acabei por comprar o PS2, foi sim um console incrível mas não tive esse apego todo a ele, claro que não podia deixar passar God Of War 1 e 2, Final Fantasy X e vários outros jogos incríveis, mas também algumas decepções com alguns jogos como as séries Castlevania e Yu-Gi-Oh, mas pra mim o grande destaque além dos GoW 1 e 2 foi o GTA San Andreas, que jogo.
Finalmente preso ao Mundo Playstation
Chegamos aos grandioso PS3 e o vício por troféus, que o ps3 foi incrível não há discussão, mas a partir deste ponto é incrível o tempo perdido com jogos bosta ou mesmo jogos bons com requisitos totalmente fora da realidade só por conta de troféus, mas e os jogos que realmente valem o Console? Jogos e séries muito fodas como God Of War 3 e o "final" da saga de Kratos, a Série Batman Arkham, Borderlands (2 em especial), Red Dead Redemption, Assassin's Creed, DIablo 3, meu jogo de luta favorito Injustice, InFAMOUS e Shadow Of Mordor uma mistura de Batman e Assassin's Creed que deu muito certo.
Minhas fraquezas, e a última loucura ($) por causa de um jogo, Flw BigN
O citado vício que me consome até hoje, afinal comprar um Nintendo Wii só para jogar Zelda Skyward Sword não é algo razoável, ainda bem que vendi no mesmo preço que comprei, mas console de mesa da BigN não da mais, que bosta esse Wii.
Outro lado do vício se mantém com o Nintendo 3dsXL, pelo menos é mais útil que o Wii, Pokémon X/Y - Sun/Moon - Omega Sapphire/Ruby, pela terceira vez comprei Zelda Ocarina Of Time... Se console de mesa não compro mais é quase certo que esse será meu ultimo portátil da Nintendo, não da pra viver com 2 ou 3 jogos.
Atualmente
Com o PS4 os jogos que gostava estão de volta e algumas continuações também, Borderlands, Diablo, Batman, Assassin's Creed, InFAMOUS, Tomb Raider, ainda tenho algumas pendências, jogos ditos incríveis que ainda não joguei e por este motivo não vou citar, o PS4 tem a fórmula certa mas até agora as coisas que mais gostei são apenas melhorias do que já foi apresentado no PS3, mas ainda tenho muito que jogar aqui, pode se tornar meu console preferido no geral, mas ainda é cedo mesmo com o PS5 cada vez mais próximo.
Gastar dinheiro por um só jogo não vale a pena, e só por troféus?
Definitivamente tem potencial, mas faltou algo... A única vantagem do PS Vita é a ligação com os PS3 e 4, parece mais um acessório que um console, não sei se vale a pena o investimento.